Normally you don't have to create an IPTV playlist which is also called an M3U file or the long download link you get from your supplier and download is the IPTV playlist or the .M3U
But there are times when your IPTV provider sends you the list with all the different country channels you may not be interested in so then you will want to go ahead and create your very own IPTV playlist to include just the channels and countries you want.
Just to note if you're IPTV provider has their android app or your using a mag box or any device that does not take a .M3U URL are file then this won't work.
But for devices such as laptops, PC and apps such as smart IPTV, GSE IPTV this method of choosing what channels you want will work fine.
How To Make An IPTV M3U File From URL
See the below on how to make an IPTV M3U file from your IPTV provider's URL they provide you.
Edit The M3U File In Notepad
What you will need to do to edit the M3U is to first get your long M3U URL link from your provider then put it in you're web browser on a laptop or PC to download the file and it will look like this once downloaded.


Please note: It may show a blank icon if you don't have VLC media player installed this is fine just right-click the M3U playlist file and choose to open with Notepad
Once you open the M3U playlist you have just downloaded you will see it look like this in notepad so many lines on text.

Ok what you need to do is every channel is on two lines so let's explain the 1st line will look like this below
#EXTM3U:-1 tvg-id="" tvg-name="channel name" and more information on the line
Then line 2 of the channel will be under line 1 and this will be a server address with a port number and your username then password with a channel ID on so, for example, something like this below

http://serverurl.com:80/mikeb/mikeyb345/15670
So always make sure the line 2 is the one below line 1 with the channel name.
Your lines may look slightly different depending on your IPTV provider but generally, they will be very similar if not the same.
STRONG IPTV TIP: Prior to venturing down this path, it's important to understand that these third-party applications haven't been vetted by a trusted source.

This is why we suggest always using a VPN which will encrypt your connection to the Internet when using these various streaming APKs and add-ons.
How To Remove Channels From The IPTV Playlist
So now you know how to open the playlist and how to read the lines its time to delete lines to get it exactly how you want before you upload the M3U file to your IPTV device.
So what you want to do is go through the file and delete the channel names you do not want including line 2 which is directly under the channel name.
Once you have deleted all the channels you don't need you will then need to save the M3U playlist BUT IT'S VERY IMPORTANT that you follow the below to save otherwise you will corrupt the file.
Before you save make sure that this is the very first line of your IPTV playlist right at the top of your file before anything else you should see this below
#EXTM3U
If you don't see that right at the top make sure to add it
Now go to File then Save As and call the filename whatever you please just make sure there are no gaps in the name or hyphens. When you have put the name there make sure to put this extension on the name .m3u
See How to Start Your Own IPTV Service.
Then make sure save as type is set to All Files and then save to a location where you can find it easy.
So just before you click save this is how it should look below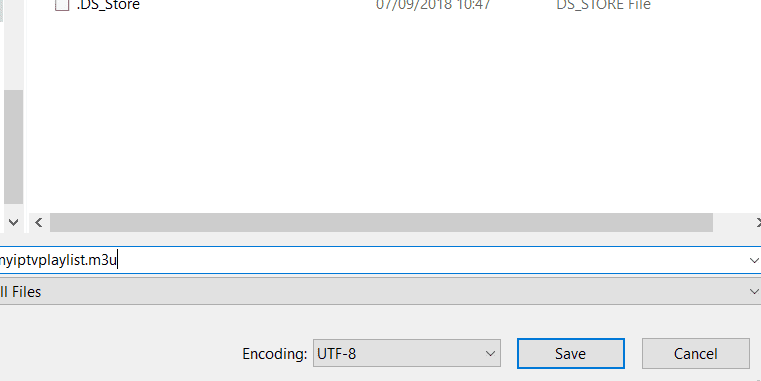 Once you have saved the playlist you can then upload it to the IPTV device of your choice or app. This can work well with the app Smart IPTV on your Smart TV or other similar apps where you can upload the M3U playlist.