For full protection when using IPTV it's recommended to use a VPN you can click the picture above for the best VPN to use for IPTV and also save 82% OFF.
Make sure you are using the best IPTV service from Strong IPTV to get the best out of your Nvidia Sheild box.
Ok, so you have just got a new shiny Nvidia Sheild TV which we must admit is the best android tv box out there by far in terms of performance and everything else it can do such as the whole shield gaming side of it and the way everything works with it like BBC iPlayer, ITV player, etc unlike some other Android devices on the market.
Anyway, let's get down to how to put IPTV on the Nvidia shield so you get the best out of it and stream your favorite channels.
STRONG IPTV TIP: Prior to venturing down this path, it's important to understand that these third-party applications haven't been vetted by a trusted source.

This is why we suggest always using a VPN which will encrypt your connection to the Internet when using these various streaming APKs and add-ons.
Adding the IPTV app to the Nvidia shield
If you have an IPTV subscription from us then you can use our very own app that has been fully customized to work with our IPTV. You can download our app using an app called Downloader which you can download on your shield and then follow the guide Install IPTV To Your IPTV Box as is the same process as below but with fewer steps and it's our own app.
If you do not have a subscription from us, well what are you waiting for??? Don't worry we still have love for you, so we will tell you how to add the best IPTV app which is very similar to ours to your shield.

Ok once you have the shield turned on you will want to click on the red circle icon called apps and go into your Google Play Store then click the little magnifying glass and here is where the shield excels you can just talk to your remote and say "IPTV Smarters Pro" and Voila! the Nvidia shield will bring you the results faster than David Moyes's Manchester United career.
Anyhow, let's not get into that…
How to Set Up IPTV Smarters Pro
So you will now see the IPTV Smarters Pro app so it's a simple case of clicking on it and then clicking on install and waiting for the app to install then clicking on open.
See how to install the best IPTV app on your ubuntu operating system
Now you will be met with the boring terms of use just scroll to the bottom of the page and click accept. Now you will see a box in the top right-hand corner of the screen saying + ADD USER so you will need to press ok to add the IPTV subscription details.

Now if your subscription is from us you should not be reading this as you should have clicked the link near the start of this guide on how to install our own kick-ass app onto your Sheild but if you do not have a sub from us then you have 2 options now on the screen depending who your provider is.
See How To Stream ITV Hub On A Firestick
If you received an M3U IPTV playlist file from your provider you can add it to your shield and open it by clicking on Load your playlist or file/Url and then locating the m3u file you downloaded or if your supplier gave you an M3U URL you can use that by clicking the top box.
See The Costs Of ITV Hub And ITV Hub+
To be honest most providers use the Login with Xtream Codes API so you will find this is probably how you will do this and it is far easier this way plus your channels and VOD will stay up to date using this option.
So once you click on Login with Xtream Codes API you will see this screen below.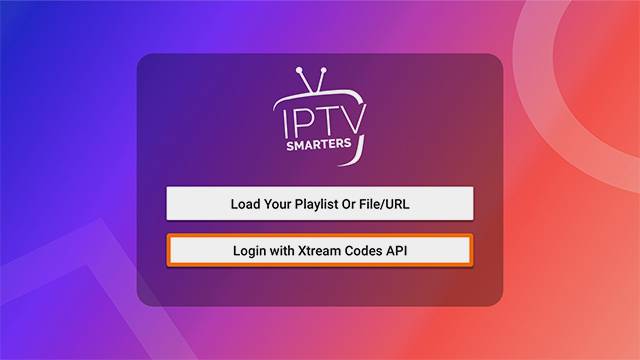 Now here is the part where you will want to enter some details in so if you ask your provider for your IPTV username and password and the server domain name and port you will have all the information needed to enter here and get watching IPTV.
Here is an example below of some Login Details.
Any Name = IPTV
Username = john
Password = pass
URL = http://iptvserver.com:3000
Please note: The example data we used is after the = and also some providers may not use a custom port, so the URL part could be something like http://iptvserver.com
Once you have done the above just click next and now press the back key once and now click on the last box ADD USER.
See The answer to the popular question, How Do I Subscribe To IPTV Smarters
If all your details were correct you will see it log in and show you a white box just press ok on the remote and then it will start downloading the channels, movies, and more.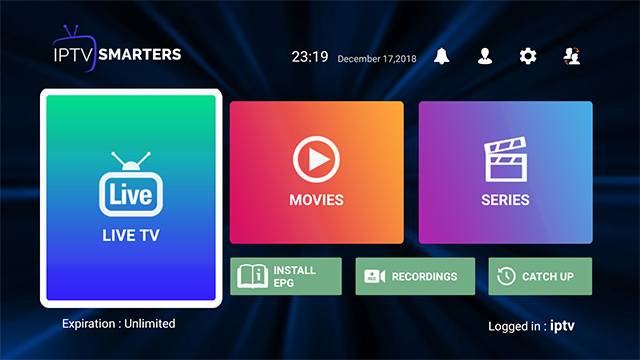 Now before you go off and indulge in some IPTV you will want to change just 1 setting first so let's do that.
You will want to click on the little settings cog icon in the top right-hand corner of the screen then go into General Settings and make sure you untick AutoStart on Bootup otherwise every time your Nvidia Sheild turns on it will boot into this app and trust me this can get annoying over time so best to untick it then click on save changes.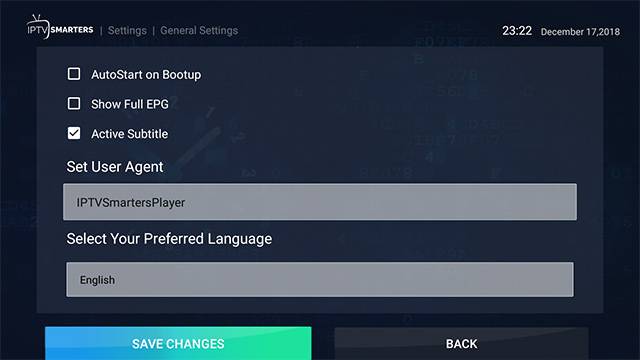 Also if you need parental control you can click on the parental control setting box and set a password and save it.
Now if you want to see the TV guide you can click on Install EPG and that will install the TV guide.
Best TV Guide For IPTV TV Boxes
Truth be told all IPTV TV guides can be a bit finicky on all apps no matter what provider you use so we suggest using a cool android/apple app called TV Guide+ you can download it from here IPTV TV Guide
The smartphone and Tablet app has a great TV guide for all channels and also allows you to set notifications to be alerted on anything you like which is a neat feature.
Ok that's it we have just made your Nvidia Sheild TV even better than it was by showing you how to install IPTV on it to stream your favorite channels.
If this helped you be sure to give it a share to help others unlock the pure power of their shield tv box  while enjoying the best IPTV subscription UK from Strong IPTV