Ok so you have heard of plex before or you use it as your main movie-watching service and as a standalone all-in-one media server. Plex will work on all the devices you can think of as plex can run on many devices but you wish you had IPTV on it so you didn't have to come out the plex app to go into another IPTV app to watch live TV. Well, we have your answer here on how you can install IPTV inside your plex to keep everything in one place.
Before you do anything make sure you have a subscription from the best iptv provider service around and enjoy all the best what IPTV has to offer
What you will first want to do is download plex if you do not already have plex on your IPTV device for Windows PC's or apple macs or iMac devices.
If you have an apple device will you just need to search the app store for plex but if you are using a windows pc you can download the Plex application from the link below and install Plex.
STRONG IPTV TIP: Prior to venturing down this path, it's important to understand that these third-party applications haven't been vetted by a trusted source.

This is why we suggest always using a VPN which will encrypt your connection to the Internet when using these various streaming APKs and add-ons.
What Devices Do Plex Work On
Internet Browsers: Chrome, Firefox, Edge, and Safari.
Smartphones: iOS, Android.
Tablets: iOS and Android.
Computers: Windows, macOS
Smart TV Brands: Samsung, Sony, LG, VIZIO and Toshiba
Media Devices: Amazon Fire TV. Amazon Firestick, Android TV and Roku
Game Consoles: PlayStation 5, Playstation 4, Xbox Series X and Xbox One
See what the best iptv app on PS4 & PS5 is
Ok once you have the plex media server installed you will need to download what is called a third-party plugin that we must install separately inside the plex so you will need to go to this link below. To install the below plugin you will need to be using the Plex media server version of Plex.

https://github.com/Cigaras/IPTV.bundle
Then you will see the word download in green on the right-hand side of the web page so you need to click it.
Learn exactly What Is IPTV Bundle (IPTV.bundle).

Then choose to download ZIP which will download the folder for you ready for you to install into the plex app by following the next steps.
See Everything You Need To Know About IPTV GitHub.

Please note: For movie streaming using plex suppliers or IPTV providers we highly recommend using a VPN that is made for both IPTV and plex. You can get a VPN HERE (82% OFF)
How To Install A Plugin On Plex
Ok, each device will have a different folder you will need to put the zip folder you downloaded in so depending on what device you have whether it's a windows pc, Apple Mac or an Android-based device you will need to put the zip folder you have downloaded into the folder structure below.
See How To Watch Formula One And British Grand Prix On Firestick For Free
Windows PC
Ok you will need to go to your C: drive and then go to your user directory to the folder structure below
%LOCALAPPDATA%\Plex Media Server\Plug-ins
Apple Mac or MacBook
For a MacBook or iMac, you can go to the finders menu and click on Go and select Go To Folder then copy and paste the below in
~/Library/Application Support/Plex Media Server/Plug-ins
See our Strikeout CC Review
Linux Based device
If you are using a Linux device we are guessing you may already know where to put the zip folder if not navigate to the below and put the file in this directory.
$PLEX_HOME/Library/Application Support/Plex Media Server/Plug-ins
NAS Devices and Other Devices
You will find the plug-in directory inside the main folders where the plex has been installed to.
See our article on how to setup IPTV on a iMac and Macbook
Where To Find The IPTV Plugin In Plex
Ok now that you have put the correct file you downloaded in the first step in the correct folder you will now need to start plex and go inside the Channels section inside Plex and you should now see a plugin called IPTV.
(If you do not see the plugin make sure you have unzipped the zip folder and put the folder inside the right section from the last step).
Get the number one IPTV Server Europe to enjoy all the best European channels.
Before you click into IPTV you will need to first click on the settings cog which will bring up a picture like this below.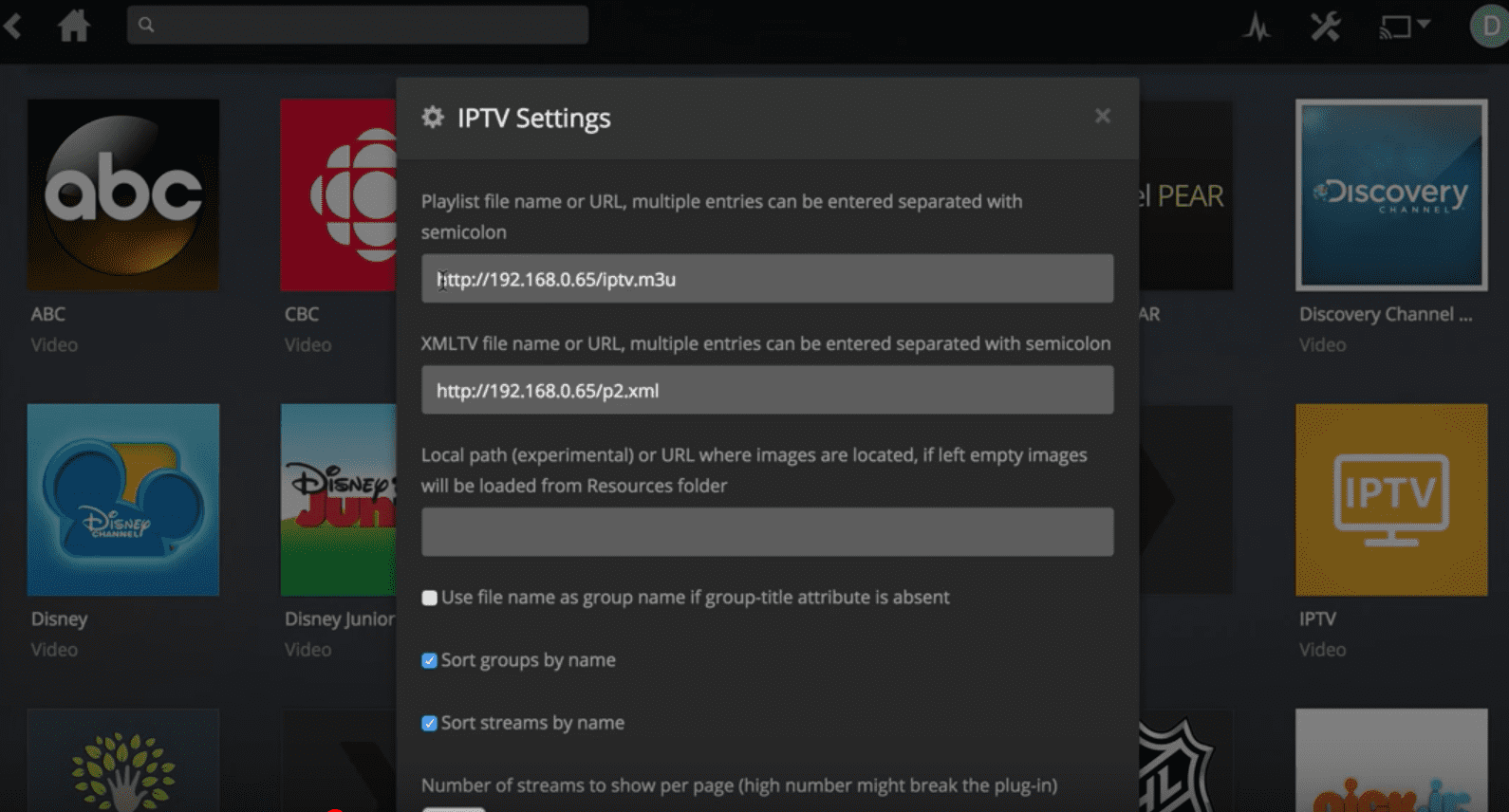 You will then need to put your M3U link which you can get from your customer client area on our website or you can ask us for it in the top field under Playlist file name or URL.
Then you can ask us for your TV guide link to enter in the part that says XMLTV file name or URL.
See How To download Lenox Media Player For Mac
Now just keep everything else as default and scroll down to the bottom and click on the orange button that says Save.
See How You Can Make Your Own IPTV Service.
How To Optimise Plex For The Best IPTV Viewing
Ok these are the final steps to make sure the plex app is on its best settings to run IPTV. You will need to press the settings spanner inside your plex.
Now go to Remote Access and at the bottom, you will see it says Limit remote stream bitrate change this to Original (No Limit) if it is not already on this and also make sure there is no value set in Internet upload speed keep it blank and just click on Save Changes.
Now go back into channels and click on IPTV and now everything will work for you fine but we strongly suggest using our Strong IPTV App as it is fully customized just for our own IPTV and you will get the best IPTV viewing with it.
Benefits Of Using Plex
Plex is one of the best media players you could want and works on most devices you can think of so let's put some benefits of why you would want to use Plex.
See Which Is A Better Service IPTV VS Plex.
It's Free (unless you go premium
Works on most devices
30-second previews of songs from TIDAL
Mobile Apps (Android and iOS)
Live TV & DVR
Invite family members onto your plex
Restrict content for other family members
Watch trailers of all movies before you watch them
If you have a Samsung TV then check out our guide on How To Download Smart IPTV App Back To Your Samsung TV
We hope this helped you if so feel free to share it to other Plex users to help them set up IPTV on their own devices.