If you have an Xbox One and you have only just realised or heard you can install Kodi on an Xbox one then we have put this easy to follow guide together so you can get the best out of Kodi on your game console.
The Funny thing is Kodi started off as XBMC which basically meant Xbox Media Player which was on the first ever Xbox made just on the turn of the century.
The Kodi version for the Xbox One is in alpha stage meaning some plugins may not work with the build but you will get many that do so overall its worth installing Kodi to the console.
Ok let's get stuck into it the first thing you will want to do is go to your Xbox One home screen and click on the Search button then type in the word Kodi and you will see the screen below.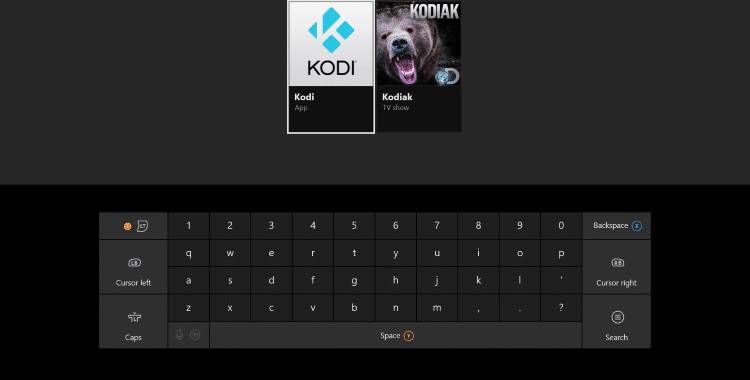 Now simply click on the Kodi icon then click on the get button and just wait for the Kodi application to download on your console.
Now once the app has installed you can click on launch then you will be loaded into the Kodi media center so its time to get some plugins installed or even browse your own media see the next part that will show you how to install the 3rd party plugins.

******** Wait before you go any further we strongly recommend using a VPN when using Kodi and even IPTV services otherwise your ISP (internet provider) can log what you are doing so a VPN stops this here is how one works below ********
You can click the banner below to get the best quality and low priced VPN deals

Also if you really want to get the best out of your Xbox One we recommend getting a quality IPTV subscription from strongiptv.co.uk then your Xbox One will have everything you ever need all loaded on to it on one convenient device.
How To Install A Kodi Build To Xbox One
We recommend using a Kodi build called Xanax which is the best Kodi Build out there at the minute so what you need to do is follow the below.
Once you are inside Kodi you will want to click on the Cog icon like below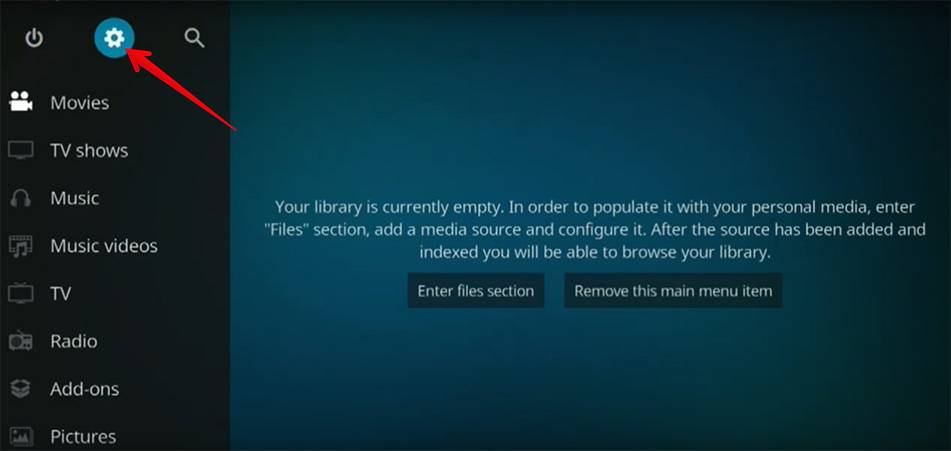 Now go right down to the bottom and click on the System Icon. Then it may ask do you want to save this resolution just click on yes.
Learn How To Install Paramount Plus On Xbox
Now scroll down to the Add-ons section on the menu on the left like below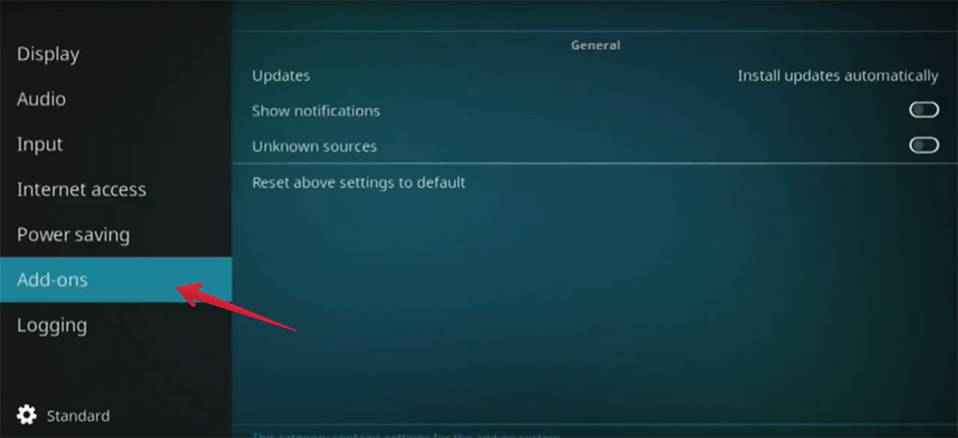 Then press the right key on the Add-ons and click on unknown sources this will then bring a notice box up just choose yes and now this will allow us to add the Xanax plugin easily.
Now what you need to do now is go back by pressing the back button and go into the icon called File Manager so the first icon in the Menu.
Now click on Add source like the below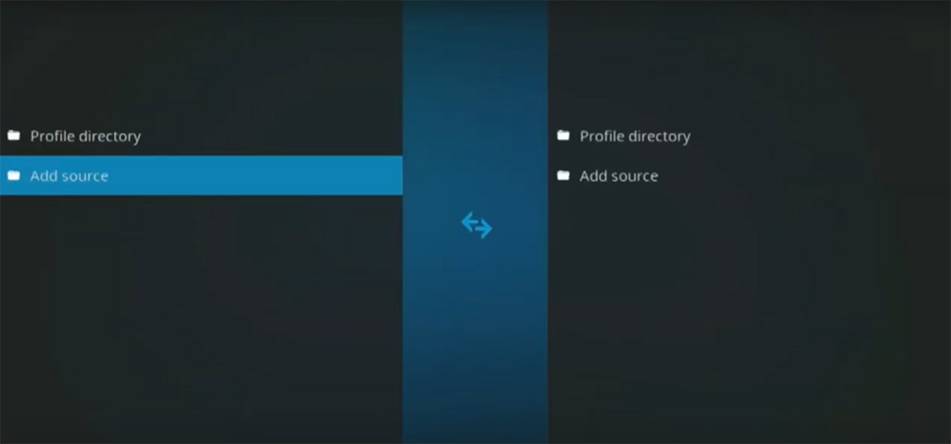 Now press ok where it says none and this is where you will enter the URL which will download the Xanax plugin repo so you need to enter this URL exactly as we have typed it using your Xbox One controller.
http://xanaxrepo.com/repo/
Now once you have done the above click on OK then go down to where it says Enter a name for this media source and press ok then put the name as Xanax or whatever you like but probably best to call it Xanax.
Now once you have done the above just press ok then go to the OK at the bottom and click on it.
"Alrighty then" (In my Ace Venture voice) we are getting towards the end so what you now need to do is press back on your controller all the way to the Kodi home screen.
Now scroll down to where it says Add-ons like the image below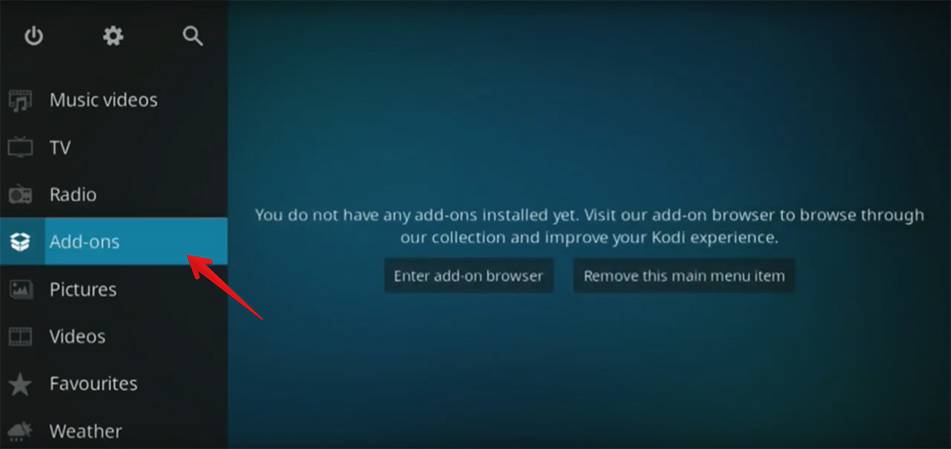 Now once in add-ons area, you will see it say Video add-ons, Music add-ons and so on, we are not interested in any of them we are only interested in that little box icon above towards the left-hand side you just want to press ok on the box icon.
Now you will want to scroll down to Install from zip folder and hit ok on the controller or should we say the A button.
See How To Install Dominus Build Kodi Firestick
Now you will see Xanax at the top of the screen or whatever you named it too so just click ok on it and you will see it say xanax-repo.zip or a different name just click ok on it as long as it has .zip on the end.
Now you will just need to wait around 10 seconds if that and you will see an icon flash up once the repo has installed like the below picture.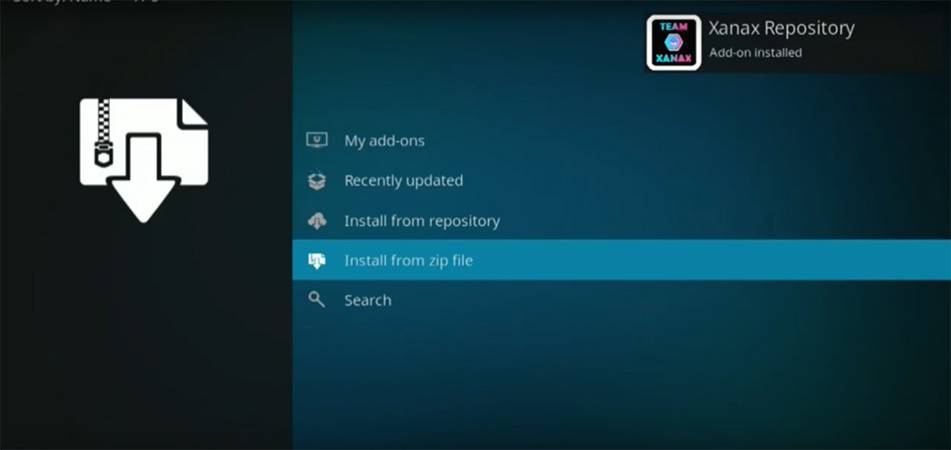 Now once you see the above or have waited over 10 seconds you will want to go to Install from repository and click on it the select Xanax Repository the click on Program add-ons and finally click on Xanax Wizard.
Now you will see this below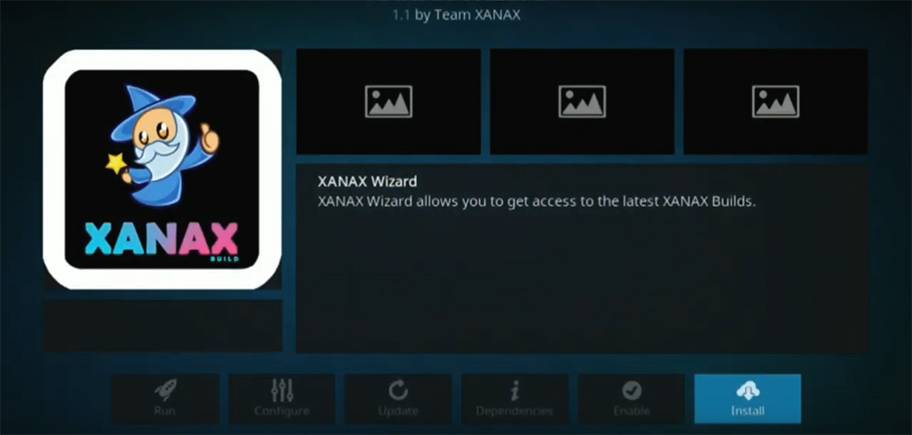 That's one cool looking wizard in the logo anyways let's not get sidetracked what you need to do is click on Install. You will then see it start downloading and then installing.
Once it has installed you will see a box pop up called a build prompt just ignore it and click on continue (damn pop-ups)
Now you will be presented with another prompt just choose build menu and now you will see all the builds in a list so just pick any of the Leia builds then scroll down and choose to Fresh Install like the image below.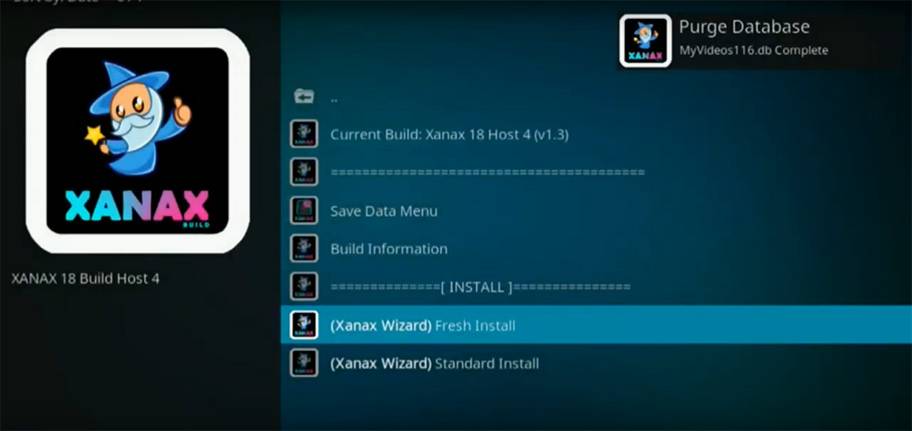 You will see a pop up just choose continue then it will start downloading and installing could take a few minutes, so put your feet up and wait as you deserve it after doing the above.
Now once it has finished downloading and installing choose the Force Close which will shut Kodi as we need to close it then re-open Kodi again to see the goods.
Once you see the Kodi Icon just click back on it on the Xbox home screen and there you have it your hard work and persistence with installing a build has paid off you now have one of the best current Kodi build on your Xbox One congratulations.
Now remember to use a VPN which we have mentioned above so everything works fine and your ISP does not snoop in on your activities and also make sure you get an IPTV subscription from us for the best in IPTV experience and thousands of great quality channels which cover all countries.
If this guide has helped you don't forget to give it a share to help fellow Xbox One users.