Ok, first things first we can hear half of you say what the heck is a STB emulator pro or stb emu and what does it do? So don't fret you can put your panic alarms back in your pocket now as we are about to break down this great app and how to set up and install the smart stb iptv app.
STBemu works best with our best iptv subscription provider service which is made to work with STBemu very well and all other apps and devices without any issues.
STB Eumlator Pro is the perfect MAG box emulator to get you as close as possible to your Android device being a MAG box.
What is STB Emulator Pro
Well STB emulator pro or sometimes known as smart STB, is an app that can mimic a mag device such as a mag 250 box, mag 254 boxes, etc. So it emulates a mag box device (stalker pro) and is just an IPTV aplication. We know clever yes!
Some people argue that mag boxes are the best way to watch IPTV with its snappy menu and channel selection to its elegant and straight-to-the-point user interface and it's probably the easiest way to navigate around compared to the other IPTV applications.

See How To Install IPTV On A Google TV.
With the STBemu (pro) you will be able to install this app on a lot more devices then just android such as Windows PC and enjoy the smooth feel of the STBemu app.
Now we would say STB Pro is not the best IPTV app but it is close and has its many perks such as ease of use if you go down this route of using smart stb pro you will be locked to using just the app and no other application or device so sometimes, for this reason, it's best to use another application so you have the freedom of putting your IPTV on many different devices.
See How To Add Troypoint Supercharge To A Amazon Fire Tablet
The Differences Between STB Emulator And STB Emu Pro
There are no main differences between STBemu apk and STBemu pro it's only the pro version of the STB emulator has no ads in the application giving you a better IPTV viewing experience and costs $5 for this main benefit of having the pro version.

STRONG IPTV TIP: Prior to venturing down this path, it's important to understand that these third-party applications haven't been vetted by a trusted source.

This is why we suggest always using a VPN which will encrypt your connection to the Internet when using these various streaming APKs and add-ons.
Learn How To Jailbreak Firestick 2023
STB Emu Downloads
If you have been running STBemu on a firestick you will of seen the features and benefits of this, which boasts over 1 million downloads and counting and over 3000+ reviews.
The STB pro version has over 50,000 installs and over 1000 reviews.
The Benefits Of Using STBemu
Some of the best benefits of using the STB apk and its pro version it will emulate any Mag box made by Infomir after the stb download.
You can also use the most liked middleware streaming portal called Stalker Pro which comes standard across all mag devices.
Other benefits of using Stb emu pro
Change aspect ratios
Built-in media player
Add multiple profiles (multiple IPTV providers)
Can add subtitles to the IPTV streams
Change Audio
Can choose from different languages on the stbemu app
If you want to try another application we recommend using our very own free IPTV APP
Now with the above being said let's see how you download and install stbemulator pro apk on your device. For those using a firestick scroll further down the page.
Don't forget to order the best UK IPTV to get the best in TV entertainment
What Mag Boxes Does Stb Emu Pro App Emulate
No matter what android device you have whether that's an android smartphone, android tv box, a smart tv running on android, or even an application on your laptop such as Bluestacks you can be sure the STB Emu app will work perfectly fine.
Check our latest guide on How To Install Unlinked On Your Firestick And How To Use Unlinked
Currently, the application is frequently updated and also has over 500,000 installs from the iOS or Google Play store and will run on any android system that's 4.4 upwards.
See The Main Differences Between Smatv And IPTV
Here are the mag boxes which the stb emu emulates:
MAG 200
MAG 245
MAG 250
MAG 260
MAG 270
MAG 275
AURA HD
All the above boxes which the app emulates is also near enough the same as the later mag boxes too such as the Mag 322 and the Mag 425A
See How To Watch And Install Paramount Plus On A PS4 & PS5
How To Download and Install The STB Emulator APK On Your Android
You can now get stbemu pro directly from the google play store if using an android box you can go here on your web browser or simply search for it.
https://play.google.com/store/apps/details?id=com.mvas.stb.emu.free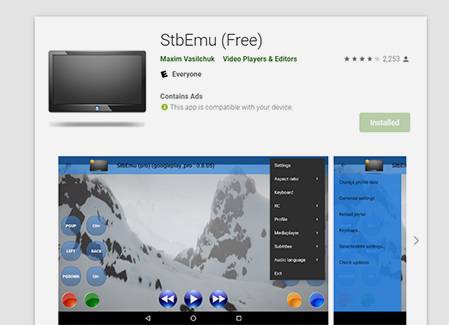 Ok, you will need to go to your web browser on your android box such as google chrome and put this web address in https://iwsssgyepq.onrocket.site/stbemu.apk which will download the application, you just need to install it now and once done you can read the section further down on setting up the apk (stbemu pro apk).
Please note: If you are using an android box you can just download the apk (stbemu pro) from the Google Store here
How To Install And Set Up STB Emu Pro On Your Firestick
Please note: If you have a 1st generation firestick the stbemu will most probably be unstable so best to use another application.
If you have not already make sure you go into settings, device then turn on allow apps from untrusted sources to make sure the app can install.
Ok, you will need to press the home button on the firestick remote then go to the top and press left to the magnifying glass and type in Downloader to search for downloader then install Downloader and open it.
See our guide on How To Setup STB Emulator On Windows

Next, you will want to put this web address in the address bar https://strongiptv.co.uk/stbemu.apk which will allow you to download and install our strong apk then you just want to open it.
How To Configure STB Emu Pro
Ok now that you have STB emulator IPTV pro (smart stb) installed it's time to set everything up so you can get watching your favorite streams.
The first thing you will want to do is bring up the side menu like below if using a firestick you can press the 3 lines button on your remote.
See The Different Ways To Watch IPTV On Any Device.
Now go into Settings and down into Profiles. You will want to press ok on the actual profile to edit it. You will see it will have a profile name such as New Profile #48732 so click on the name and call it whatever you like we would say call it Strong IPTV if you like.
Now once you have added the profile name in go to the Portal settings below and press OK. You will now see it say portal URL and this part is important.
To get the stb emu pro portal URL you will need a subscription which you can BUY A IPTV SUBSCRIPTION then in your welcome email you will see the portal address you need to enter in the portal url field.
So if you do not have a subscription by now make sure you get one for this to work. If you do not see it email us for it once you have purchased your subscription.
Now with the portal URL entered you can go back a page by pressing the back button and go down to STB configuration and you will see a section that is called MAC-address you will need to write that down then email us the mac address code so we can activate the code for you on our system after you have a subscription from us.
Learn to Install Sky Go On Firestick
Now once you have sent us the MAC code you have written down you can press back on the remote until you get to a blue screen then press the menu button or on a firestick the little 3 line button on the remote to bring up the side menu.
Now go down to profile and press ok and then press ok again to load the profile which will restart the app and once the app has restarted you will all the TV channels once the yellow bar loads up for the first time.
The app is straightforward to use you just find your category and press ok on it then press ok on a channel to play it or press right on the channel to see its TV guide super simple.
Looking to try another app then check out this guide on How To Download IPTV Extreme On A Firestick
Advantages And Disadvantages Of Using STB Emulator Pro
Advantages Of STBemu Pro
Can customize the app to how you see fit
Can set a password on the stbemu app
Can pause IPTV streams when exiting the app
Disadvantages OF STBemu Pro
When opening the onscreen keyboard you are unable to write on the on-screen keyboard
Only has 3 different built-in language options
Some settings can't be accessed
How To Emulate Different Mag Boxes
If you saw the above bullet point list you can see that the STB emu app will emulate all the different mag boxes so to do this you will need to go other to the 4th icon from the right and click on Settings then go into Profiles.
Once you are inside Profiles you will see a profile made before simply clicking on it and then and then you will see STB Model so click on that.
See How To Install APKTime On Your Firestick Or Android Device.
Now you will be presented with all the different mag boxes to emulate so just click on one and then you will be emulating that mag box device.
See our latest guide on How To Set Up Mag Portal URL Address
Also, the STB emulator pro app is also available on the Google Play Store if you are using an android tv box
See The Different Fully Loaded IPTV Boxes In The UK.
FAQ – STB Emulator Pro
What Is STB Emulator Pro?
It is an app that runs on Android 5.0+. It allows you to load the web portals designed to run on STBs such as MAG devices on your Android device.
How Much Does StbEmu Pro?
StbEmu Pro apk premium version costs $5.49 to get all the premium features the app has to offer.
Is StbEmu Free?
Yes, StbEmu is a free app that you can download from the Google Play Store. There is also a premium version called StbEmu Pro which costs $5.49
You can also find stbemu ad free on Google.
How Do I Search For Channels On StbEmu?
You can use the arrow keys on the remote to search for channels. You can change the channel view with the red button. Sort channels using the green button and yellow button to favorite your most-watched channels
How Do I Install StbEmu on my LG TV?
This is very straightforward you will simply need to go to the Google Play Store on your LG TV and search for StbEmu then download and install the application.
Final Words
We hope you enjoyed our guide on how to install stb emu pro on your firestick or android device and if you have any questions regarding this let us know. This is a amazing android is a great app and will work on all android devices as well as firesticks.
Also here's a bonus you can install IPTV on windows pc by following our guide
Don't forget to share this to help others set up this app.
Alternatives:
Install Live Net TV For Firestick
BeeTV Alternatives
Appollo TV Alternatives
Netfly IPTV Alternatives
HesGoal Alternatives