If you know what Bitcoin is and who uses it and why you should use it then just skip down to the section that is titled How To Buy Bitcoin Online.
Ok you would have heard of Bitcoin by now as it's talked about everywhere but you may be unsure what it is or how to buy it. Well, Bitcoin is a form of digital currency that is taking the world by storm due to its privacy especially with the way your banks etc can see what you purchase online such as IPTV products and more.
Full a full description of what Bitcoin is you can see the article below.
https://www.mirror.co.uk/tech/what-is-bitcoin-digital-currency-10409961
For the last few years, Bitcoin has risen fast in popularity and many people now use it as a new currency from restaurants, coffee shops in places like New York and all across to London the world has started to use it even the big retailers.
What big retailers use Bitcoin
We hear you ask "What retailers use Bitcoin?" Well, you would be very surprised here are just some of the biggest retailers who now accept Bitcoin below.
KFC Canada: Yes even KFC across Canada are taking payment in Bitcoins now and soon other countries will follow
Subway: Yes subway accept Bitcoins but this is only rolled out in certain stores but they may roll this out nationwide soon.
Microsoft: They take bitcoin payments on the Xbox store and have done from 2014
Namecheap: The biggest domain registrar and website hoster in the world uses bitcoin now on their website
Newegg: Is one of USA biggest electronics retailers online and they ship all across the world with over 42 Million websites visits a month and they are one of the most used e-Commerces for electronics buying.
Expedia: These are the biggest and easiest company to search for flights and other forms of travel online and use bitcoin as well.
Bonus Tip: We also hear Amazon is thinking of adding bitcoin as a payment option to their website and Amazon definitely does not need any introduction there the biggest retailer in every country.
For a full list of all the big retailers who use bitcoin you can see the list at this website https://99bitcoins.com/bitcoin/who-accepts/
Even the football team Arsenal has partnered with bitcoin digital currency company making them the first football club to do so here is the article on that https://www.mirror.co.uk/sport/football/news/premier-leagues-first-bitcoin-footballer-12239124
Why Should I Use Bitcoin and What Are The Benefits?
Bitcoin is on the rise with more people using it across the world as a more safer way to buy online goods and even offline goods.
For starters Bitcoin gives you privacy just like a VPN would as your ISP tracks your online activity and even sells the data behind your back. Well your Bank can do similar so Bitcoin allows you to buy goods in private and its 2019 privacy is becoming vital for us citizens.
Also when it comes to IPTV websites and other online stores we are seeing cases where an IPTV website will use Paypal and other payment methods then they run into issues and there Paypal gets frozen or card merchant then all your details get passed from Paypal to the authorities or from whatever method of payment they were using to the authorities.
Now do you really want your card details, name and address with an IPTV provider even if you used them years ago and they run into trouble you will get your details passed on so this is why many IPTV clients are now using Bitcoin as with Bitcoin none of this happens as you do not need to fill your details out or use your cards as the payment are private so this makes bitcoin the number 1 way to pay for IPTV now.
You can see an example below on one of the previous biggest IPTV providers (Ace Hosting) handed customer details to the authorities and this is happening more so it's crucial you use Bitcoin to protect yourself.
Another bonus with Bitcoin is when you shop online but don't like the product and want to send it back the refund process can take over 5 days for your debit/credit card to be refunded as payments need to clear back to your bank but with Bitcoin refunds only take a hour if that and you have your full funds back in your Bitcoin wallet ready to spend elsewhere.
Bitcoin is the most secure way to send and receive funds as every transaction is signed and authenticated by itself then sent to the blockchain which is the safest platform which bitcoins run on.
Blockchain is very secure and even the NHS in the UK are looking to change their systems to run on blockchain due to the security of it.
Watch the video below to see what the BlockChain exactly is:
Ok, we feel that's enough coverage on what bitcoin is and why you should use it so its time to show you how to buy bitcoin and use it on websites included our website for the best security for yourself.
Where To Buy Bitcoin
Ok the best place to buy bitcoin is at Paxful which you can click the image below and sign up to them but make sure to follow our guide if needed below on how to sign up with them.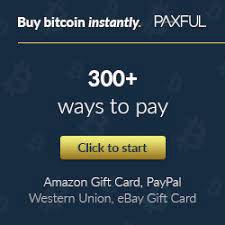 Step 1. Click the image above and then you will be taken to Paxful home screen where you can then click Create Account at the top right-hand corner of the screen.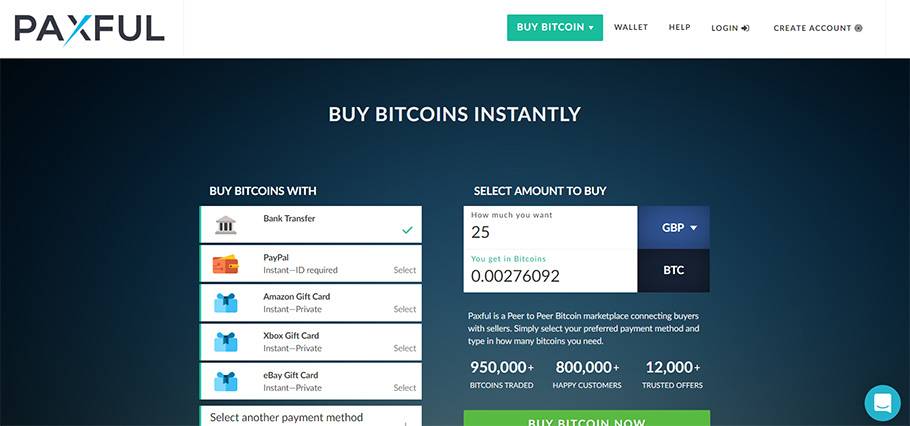 Step 2. This is easy just enter an Email address, Username and Password. Tick the accept box and then create account. Make sure you then check your email and click on verify account to verify your account.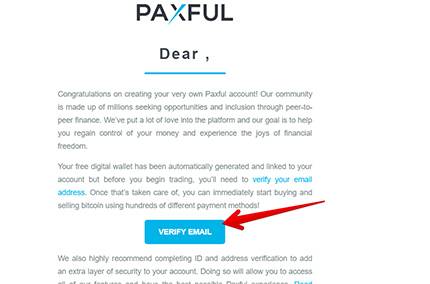 Step 3. You can now buy bitcoins to keep in your bitcoin wallet which is like a bitcoin bank in a way which holds your bitcoin funds.
Here you have plenty of options to buy bitcoins you can buy them via Bank transfer, Credit/Debit card, Paypal, Gift cards such as Amazon, Steam, Google gift cards.
But we recommend using bank transfer or your card otherwise the other methods will cost higher than just using your bank to transfer funds instantly or instantly using your credit/debit card.
You can also use Paypal if you want but prices are a little increased but there are many sellers who will sell you bitcoin and you can pay them using PayPal and some allow no ID if your not ID registered with Paxful (but we recommend you do get Id verified with paxful as there is no reason not to be)
Another good way is to choose cash deposit at the bank and then you just need to go to the bank and put your seller's details on a payslip and just pay into the account in the bank so this is very easy as well.
You can also buy in person and even use MoneyGram and western union if you need to.
We would just like to say Paxful is very secure so you should never worry about paying other sellers.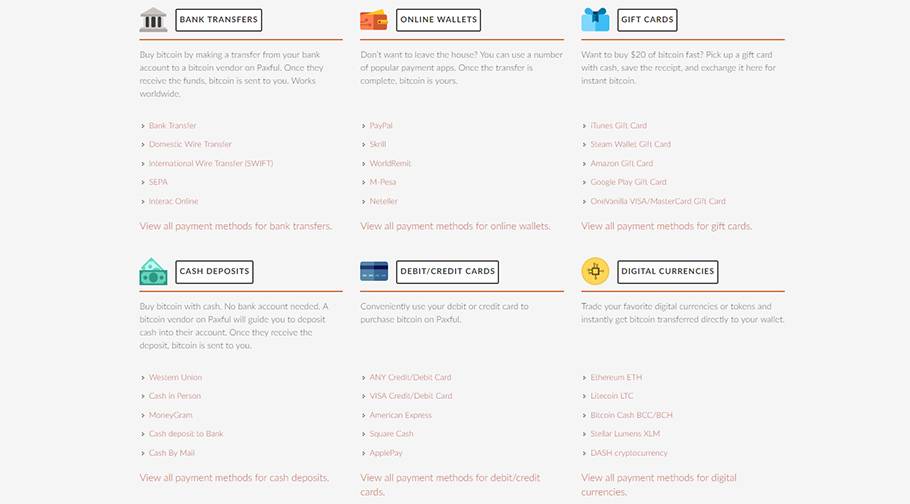 Step 4. Ok you are now on the buy screen on paxful ready to buy some BTC so what we have done is made this image below and we will explain each process.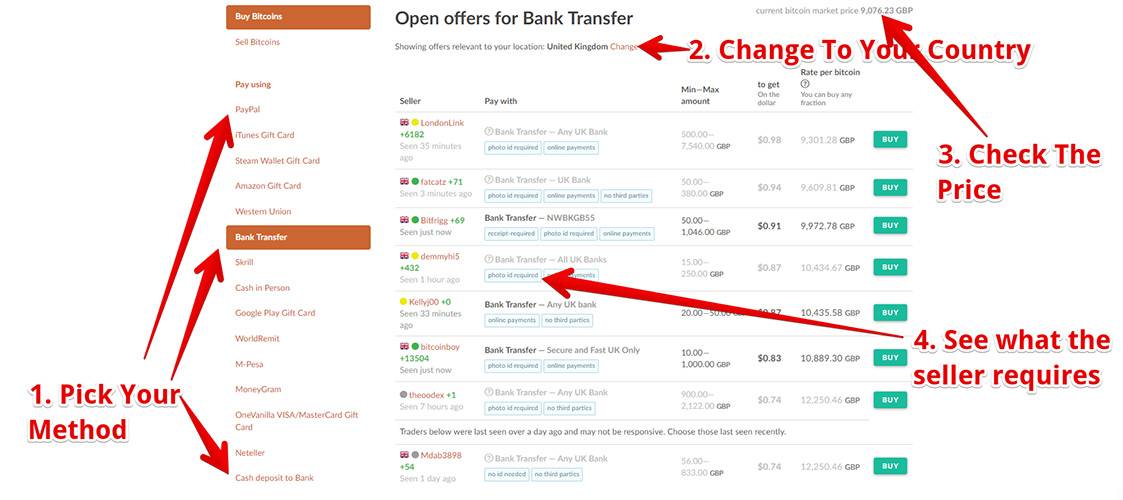 1. You choose how you want to buy bitcoin so bank transfer, credit card, PayPal or cash deposit into the bank. All of these methods are good but you can choose any you want.
2. Change the country to what country you reside in.
3. Check the market price for 1 whole bitcoin and then when you see a seller it helps if their Rate per bitcoin is close to market price but if you see market price such as $9000 but their price is $12000 or above do not worry as your only buying a low amount if you were to buy $12,000 yes you would lose a little but it does not matter here as you will only be buying maybe $100 worth or whatever your buying.
4. Also you will see little boxes this is normally what the seller wants so a lot will need you to be ID registered with paxful so this is worth doing but if you don't you can pay by cash in a bank but there no worry at all at being ID registered with paxful as bitcoin is private when you buy so no need to worry about being ID registered at paxful or any other bitcoin exchange website.
5. Check the minimum amount your seller requires before you buy and also check they are online with a green circle next to their name so the transaction will be instant.
6. Once you have picked a way to buy bitcoins such as Paypal or bank transfer you then need to click on the green buy button then on the next screen choose your amount and click buy now then follow the sellers instructions.
Please Note: You will see it say something like this "You will get $0.88 for each paid dollar" Make sure its as close to the $1 dollar as you can get it but anything over $.075 is acceptable it means you will lose a small amount due to commission but this is fine with amounts such as $100 but would not be good if you were to buy $9000 worth of Bitcoin.
7. Once you have followed your sellers instructions after a small while may be up to 15 minutes you will see your very first Bitcoins (woohoo!) in your Wallet. You will find your Wallet at the top of the paxful screen.
8. Now what you will need to do is when you are shopping online or on our website here Buy the best iptv subscription you will need to choose bitcoin to pay and then you will see a picture like the below.
How To Pay Online With Bitcoin
So the time has come you have followed the above and have bitcoins in your wallet and you are ready to use the most secure and best way to pay for online purchases. So we will show you how to buy products using your paxful wallet.

You simply choose bitcoin on the website checkout where you are shopping such as Strong IPTV then you will be met with 2 important things.
The first one will be a long Bitcoin address which will look like this (do not pay to this address as its an example BTC address)
46GDjned445FFJDjdndnsSSDFfr872DCEp8h
Yes wow, that's a big address but all bitcoin addresses are between 26 – 35 alphanumeric characters so your best to copy and paste so you don't make any mistakes.
The second important thing you will see is the amount which will look something like this 0.0097637BTC but will be completely different numbers as this is the cost of the product whatever you are about to buy.
So go to your Paxful wallet and click on Send Bitcoin then in the first box you copy and paste the amount in from the checkout page your buying from and then you need to copy and paste the bitcoin address from our checkout page and make sure these details are correct just to repeat ourselves as its important make sure these details are correct otherwise if you overpay or underpay the funds will be sent back to you and your order will not be fulfilled, this is the same for most websites.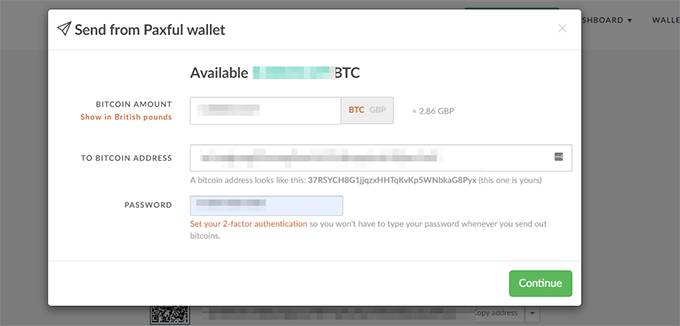 Then click on continue and follow the steps and this will make the purchase. Then with bitcoin, you need to wait around 10 minutes as bitcoin has a process called confirmations where the transaction completes itself.
Altogether there are 6+ confirmations Bitcoin makes on the blockchain but you don't have to worry about any of this as this is technical stuff just understand our system will wait for 2+ confirmations so normally it takes less than 5-10 minutes for 2 confirmations and then our system will send you your IPTV subscription service details and you would have officially paid and this is the same for all other websites who accept Bitcoin.
Conclusion
Now that's it all done, to be honest, it might have seemed a little difficult for your first time but once you do this process more than once it's very easy and then you can start to use Bitcoin more and more and have the best security online by using bitcoin.
If this guide helped you to buy your first bitcoins and to show you the benefits of buying and using bitcoins then be sure to give it a share to help others who are new to Bitcoins.