You may of all used a openbox or skybox if you have ever had a satellite subscription service a little before IPTV took off. It started off with openboxes and moved to skyboxes and then some openboxes were made again and of course, many other types of satellite boxes were on the market.
We the good news is if you were stuck with a openbox and the satellite provider you were with ended their service due to some issues with the satellite system, well you can use IPTV on openbox v8s by following our how to setup iptv on your openbox v8s guide.
The issue you may face is the openbox is not known for its quick CPU processing or its large amount of Ram as a VU+ box is know for so you may run into slight issues when watching IPTV. These issues are not too bad but it could be if you flip through the IPTV channels too fast the box may crash and lock up just meaning you need to restart the box.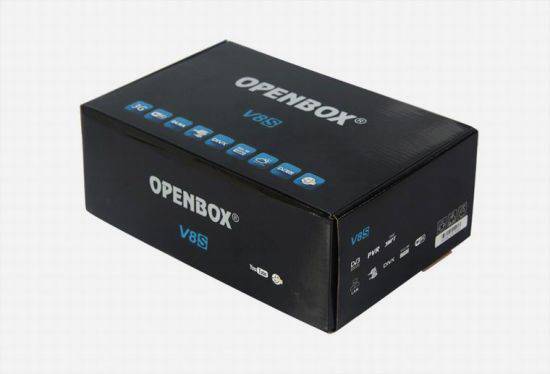 How To Watch IPTV On The Openbox V8S
The first thing you need to know is the IPTV will be watched from using a built-in app inside the multimedia part of the openbox and the app is called WebTV
If you do not have an iptv subscription currently we recommend clicking here to buy your subscription with one of the leading IPTV providers.
There are 2 methods you can use to install the IPTV subscription or should we say the webtv.m3u onto the app webTV and you will need a USB stick formatted to FAT32 to do this with so make sure you equip yourself with one before you start.
What you will want to do is make sure you have an active iptv subscription from your iptv provider and then download your m3u url they provide via a email or ask them for it once you have it you can type the link into your web address bar and it will download the m3u file which you will just put on a freshly formatted USB stick.
If you need to know how to format a USB flash drive to FAT32 you can follow this guide.
There will be 2 methods you can follow its best to follow the first method and if that does not work for you which most the time it will work fine you would then just do the second method which will work fine if the first method does not work for you.
Rename Your M3U File To WebTV.m3u
Before we jump right into the methods you will need to rename the file on the USB stick which will be in the name of whatever username and extras your IPTV provider set it to so change the file so it just says Webtv and it should keep the m3u part by itself so the whole file name, if you right-click on the file and choose properties, will be called WebTV.m3u and then that's done and dusted time to get your hands dirty.
Installing IPTV On The Openbox V8S (First Method)
Ok, most of you will only need to do this first method so we will break this down into steps for you to make everything nice and easy.
Plug in your usb stick to the openbox v8s which contains the m3u file you downloaded and renamed
Open Menu using the remote and go across to Multimedia
Go to WebTV and press ok
If you see any channels already in there press the green button to delete them
Press the yellow button on the remote which will read the USB stick and the channels will now show up
If you did not get the channels to show up after doing the above its time to move on to the second method of setting up iptv on the openbox v8s.
See If You Need A Satellite Dish for Watching IPTV channels.
Installing IPTV On The Openbox V8S (Second Method)
Ok make sure your USB stick is still connected to the openbox if the first method failed and follow the steps below
Open The Menu using the remote then go across to multimedia
Now go to WebTV again and if you see any channels press the green button to delete them
Now go back to the main menu and go to Tools and then Upgrade by USB
Now change the upgrade mode to Misc Files and then at the bottom choose to Select and Upgrade
A window will now appear, choose WebTV.m3u and you will get a tick show up on the right side
Now press the yellow button to start the upgrade once it finishes it will say upgrade has finished
Finally, just press exit twice and go to menu, multimedia and straight into the WebTV app and you will see the channels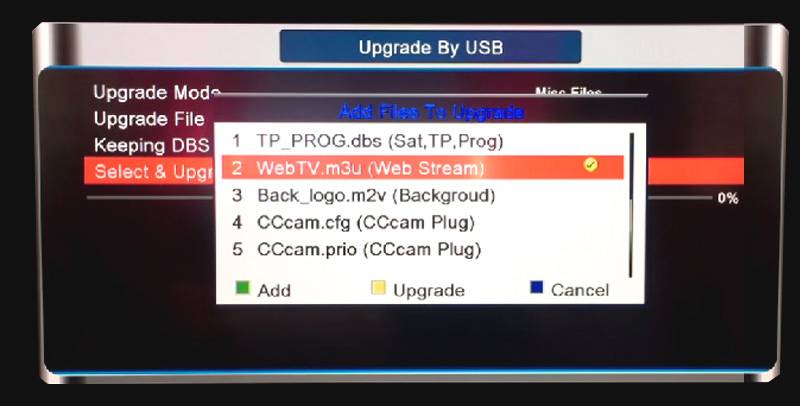 We hope this has helped you set up IPTV on your openbox v8s if it has then give it a share to help others.
We recommend using an android box or an amazon firestick over the limited and slow openbox you can follow our guide how to install iptv on my firestick to put the best IPTV app on your firestick or android box.